Android is a pretty slick operating system these days, working equally well on tablets and smartphones, from budget wares to flagship products. But smartphones and tablets aren't the only thing you can install Android on – how about Android on your laptop? It sounds a little weird, but it's not only possible, it actually works surprisingly well.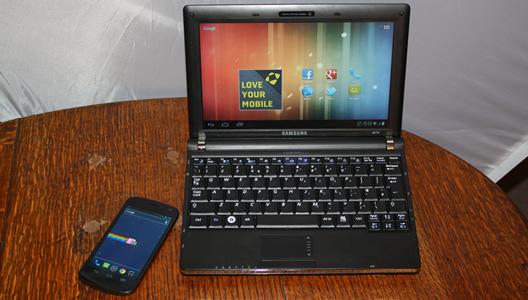 Out of the box, Android is already pretty well suited to being used on a small laptop such as a netbook – it makes good use of meagre computing resources like battery life and memory, comes with a wide array of easy to use apps, and it natively supports mice and keyboards which can be used instead of touch screens. With a specially built version of Android called Android x86, you can install Android on your laptop just as easily as you could install Windows or Linux.
If you'd like to try out Android on your netbook, then it's a relatively simple affair to do so once you know how. This article walks you through that process, from downloading Android right through to booting into the Android operating system for the first time.
You'll need a blank USB stick (it needn't be very capacious, just 128 MB should do), a wireless network connected to the internet and your netbook. I'm using a Samsung NC10, but most netbooks should work — and some laptops may do as well.
Of course, it also bears mentioning that we're not responsible for messing up your computer and/or life from following these directions – that shouldn't happen, but the potential is there. Tread carefully.